As more of their potential clients became interested in Passive House principles, these architects took the ultimate step in educating themselves by building and living in Passive Homes themselves. Creating buildings with supertight envelopes, orienting them to harness the sun and choosing energy-efficient systems have resulted in houses that use 75 percent less energy than new homes built to code. Here are their homes, one along the shore on Long Island, New York, one in the mountains of Park City, Utah, and one on a peninsula in Nova Scotia, Canada.
–

House at a Glance
Who lives here: This is a weekend home for architect Wayne Turett and his family.
Location: Greenport, New York
Project: A Passive House that fits into the coastal Long Island landscape
Architect Wayne Turett had been interested in Passive Houses for decades. Passive House principles require a house to use 75 percent less energy than a new home built to code. Although he'd been able to design energy-efficient houses for clients, he'd never been hired to design a Passive House. Rather than waiting for that dream assignment, he decided to build one for his own family.
The house is in a village on the North Fork of Long Island. Turett found an infill lot with views of Stirling Basin. He oriented the house toward the water and went for an upside-down floor plan, so that the second-floor kitchen, dining and living areas would enjoy the best water views and the light provided by the southern orientation.
He expanded the living space outdoors — the family considers the second-story deck their outdoor living and dining room. Features of the deck include an overhang that prevents direct sunlight from heating up the interior during the summer; a concealed closet for cushions, sunscreen and a hose; and a hidden track in the overhang for mosquito netting.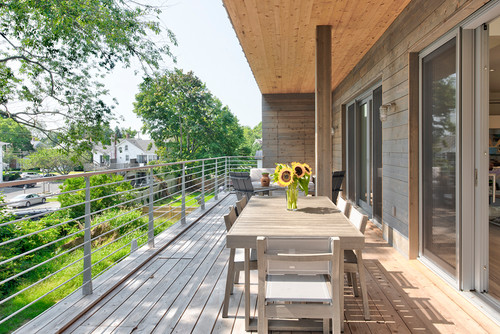 Photo by The Turett Collaborative –
Design and Systems

The house has an airtight envelope that keeps warm air from escaping during the winter. This is a result of combining high-quality and well-sealed insulation, sheathing and triple-pane glass, all key elements in a Passive House. Turett was unable to find a contractor who had experience with Passive House techniques, so in addition to designing the house, he took over the contracting duties.
The exterior walls are an example of where Passive House expertise is crucial. Typically the walls of a code-built house from inside to out will have drywall, then stud walls with fiberglass insulation in between the studs, then sheathing, then exterior siding. But in this home, the walls are 12 inches thick and, from the inside out, there is Sheetrock, then fiberglass between the studs, then Zip sheathing taped at the seams to create an air barrier. In addition, there is rigid polyisocyanurate insulation with 1-by-3-inch furring strips and the finished siding. Sealing any penetrations in these thick, insulated walls is critical to creating an airtight house — windows and pipes have to be taped to the sheathing.
Because the house is airtight, it holds the heat in the winter and does not require a powerful heater. The house is all-electric and is heated and cooled with a duct mini split system, aided by an energy recovery ventilator. The ERV can be boosted in areas that need it more, such as in the kitchen when someone is cooking or in the bathrooms to maintain air quality.
Photo by The Turett Collaborative – Search bathroom pictures
Other Priorities

The Turetts wanted interiors with an urban loft feeling that would connect with the surroundings. A simple and light Scandinavian-inspired color palette makes the home feel open and airy. Downstairs, the master bedroom shower is not only part of an open wet room layout, but it has a glass exterior door that creates an outdoor-shower feeling and makes the most of the natural light. Results: Turett has not completed the Passive House certification process yet, as he's finishing up a few landscaping projects. But he reports that because of the way he took advantage of cross breezes in the home's design, the family has yet to turn on the air conditioning, and electricity use has been minimal. Because this is a weekend home, he hasn't added photovoltaic panels, but he figures that if he does so in the future, this would be a zero-energy house, which means it would produce at least as much energy as it uses over the course of a year.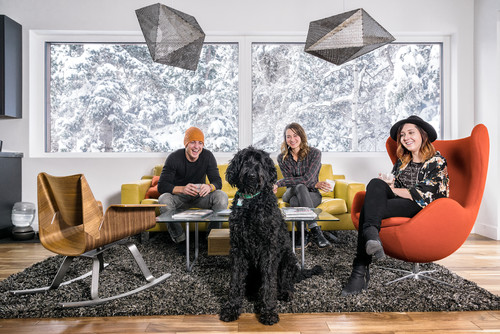 Photo by Zola Windows – More living room photos
House at a Glance
Who lives here: Architect and general contractor Chris Price of Park City Design Build and two housemates
Location: Park City, Utah Project: A site-specific Passive House
Architect, contractor and design-build firm principal Chris Price wanted to lead by example, so he designed and built a house according to Passive House principles for himself and two housemates in Park City, Utah.
Design and Systems

Price maximized south- and southeast-facing windows to take advantage of the thermal gain from the sun. The windows are triple-pane, tilt-and-turn Thermo uPVC with an R-value of 11. He made the most of the windows and kept the footprint smaller by designing an open floor plan.
The walls are 16 inches thick (with an R-value of 65) and insulated to create an airtight envelope. There is a heat-recovery ventilation system that keeps the air healthy and fresh, and a superefficient Navien combo boiler that heats the water and the house.
Photo by Zola Windows – More exterior home photos
Other Priorities

Beyond meeting Passive House standards, Price believes in designing a house to work with a site rather than forcing a site to accommodate a preconceived house. Here, the site's 45-degree slope posed a challenge but also provided inspiration for the home's design.

"I tried to maximize the site and work with the existing contours and grading without any preconceived notions about the design," he says. The solution was a split-level plan that steps up the existing hillside to make the most of the views. The facade is hot-rolled steel with an appearance that fits in with the mountainous region.
"I tried to maximize the site and work with the existing contours and grading without any preconceived notions about the design," he says. The solution was a split-level plan that steps up the existing hillside to make the most of the views. The facade is hot-rolled steel with an appearance that fits in with the mountainous region.
Photo by Zola Windows – More dining room ideas
Price strives to keep construction waste to a minimum. He doesn't let a tree taken down during construction go to waste. When a Douglas fir was felled during construction, he made the table seen here out of it. And if he can't use a tree immediately, he saves it to add a personal touch when the opportunity arises on another project. Price also crafted the unique steel light fixtures seen here himself.
Results:

The architect estimates that the cost of his house was about 10 percent more than that of a typical code-built house. But what he spent on construction, he saves in utility bills. During the coldest days of winter, the monthly bill to heat both the house and the water has not exceeded $50.
Photo by Solterre Design – Discover exterior home design inspiration
House at a Glance
Who lives here: Jennifer Corson and Keith Robertson, both architects at Solterre Design, and their two children
Location: Near Lunenburg, Nova Scotia, Canada Project:An off-the-grid sustainable weekend home
Husband-and-wife architects Keith Robertson and Jennifer Corson researched living off the grid by jumping right in and doing it themselves. They designed a weekend house for their family completely powered by the sun, and used as many recycled and recyclable materials as they could to construct it. This has given them invaluable experience to pass along to clients who are interested in these materials and solar power.
Design and Systems

The house faces south to take advantage of the sun's warmth and light. Solar panels on the roof charge batteries for all of the electricity they need in the house and heat water. Four solar thermal panels on the roof provide heat to two hot-water tanks through a system of copper pipes and a heat exchanger. This water is used for dishes, laundry and bathing and also provides heat to baseboard and radiant heaters. The home also has a backup propane boiler and a small wood stove. The wood all comes from dead, fallen trees on the property. The couple insulated the walls and roof with 6.8 metric tons of recycled newsprint.
Nine solar panels on the storage shed store energy from sunshine in four Surrette batteries, powering all the appliances. The kitchen has a DC-powered freezer and refrigerator, a propane cooking range and a microwave. The house uses about 20 percent of its available battery power per day; after five days without sunshine, Corson and Robertson can fire up a backup generator to charge the batteries in four to five hours. They've had to do this only three times in 16 months.
To precool and preheat air coming into the home, the architects laid a roll of Pex pipe filled with a glycol mixture under the foam-and-concrete-slab foundation. This pipe maintains a constant temperature of 54 degrees Fahrenheit. Two ends of the pipe connect to the energy-recovery ventilation system, and the air from outside is cooled in summer and heated in winter.
Photo by Solterre Design – Look for exterior home design inspiration
Other Priorities

The architects wanted to learn how to maintain a green roof, and created one on the other side of the house. Since it isn't necessary for this one to prevent runoff, due to the rural site, they used a metal roof on the rest of the house and collect rainwater from it in a cistern.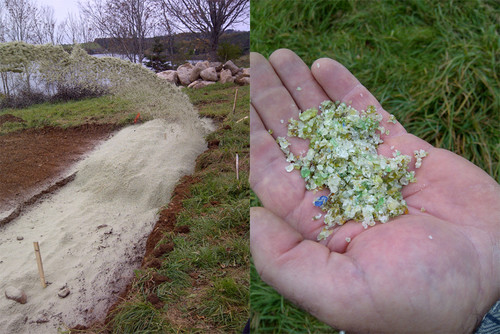 By Solterre Design Halifax – See more Home Design Photos
Reducing the carbon footprint of the construction process was an important design consideration. They sourced all of the building materials locally and had to get creative to do so. For example, rather than trucking in sand from a location an hour away for the septic field, they used 72 tons of recycled crushed glass obtained from a nearby pickle jar plant. Had they not used it locally, this glass would have been shipped to another province for further sorting and then on to the United States. Corson owns an architectural salvage company called Renovators Resource, which stockpiles, cleans and sells renovation and demolition materials. The couple designed the house around extra-high walnut doors she had in stock, salvaged from a historic home.

Results: The house can be recharged on a full day of sunshine, and typically uses about 20 to 30 percent of its stored energy per day, depending on usage. Though the family gets by just fine with nine solar panels, they have the ability to increase to 15 panels.