As the name implies, an L-shaped kitchen is formed of two adjoining runs of cabinets, often referred to as the legs of the L. It can vary in length according to the area available, and is suitable for both large and small rooms. Learn the main design principles for creating a successful L-shaped kitchen.
WatchCity Kitchens LLCWith expert planning, an L-shaped kitchen will allow for an organized and efficient workflow. And because you can separate work zones in this layout, it can easily and comfortably accommodate you and another user simultaneously. In this respect, and also because they often open into a larger room, L-shaped layouts offer a sociable arrangement: If you are entertaining, your guests can carry on a conversation with you and even wander safely into the cooking area.
But the downside is, unless you have room for an island, you are likely to face a wall (and face away from your guests) while preparing and cooking food. Whether this is an issue comes down to personal preference, so consider whether this will bother you, and whether a different layout might better suit your needs.
See guides to other kitchen layouts
PROYECTOL-Shaped Kitchens With Different-Length Runs
L-shaped kitchens can be very flexible, particularly regarding the position of the sink, range and any tall units. But when designing an L-shaped kitchen with different wall lengths, we frequently look to include any tall cabinets on the shorter run, and as far from the window as possible, to not block the room's natural light source.
For example, the sink and cooktop might both line the longer wall, while tall cabinets will be located on the shorter wall. The tall units might include a built-in fridge-freezer or oven housing.
At the same time, the cooktop would be located toward the far end of the longer run (away from the corner). This creates necessary prep space on either side of the cooktop, and also allows sufficient workspace for another user. The main exception to this arrangement is if there's a window above the shorter run of cabinets; in this case, the layout must be reversed.
Rasmussen ConstructionPosition wall units on the longer run. Again, it depends on where your windows are, but generally in an L-shaped kitchen with different-length runs, we would locate the upper cabinets above the longer run. This allows more wall storage compared with the shorter run. It also ensures glassware and cooking condiments are within easy reach of the cooktop below.
If there's no window, you can continue your upper cabinets around the corner onto the shorter run, but often floating shelves or glass-front doors work better, as they create an airy, open feel. This gives the impression of a larger kitchen overall.
Ryan Tuttle PhotographyL-Shaped Kitchens With Same-Length Runs
Where both runs are roughly equal in length, we would typically locate any tall cabinets on the same run as the cooktop. This frees up working space around the sink area on the adjacent wall.
For example, for 10- or 12-foot walls, we would site tall fridge housing on the far end of one wall, possibly with oven housing next to it. The height would then drop to countertop level, with a cooktop centered over generous drawer space (or an oven if this is not within the tall housing). There would be countertop space on either side of this, and upper cabinets would continue above the length of this run.
On the adjacent leg, the sink area would typically house a pullout trash container underneath the counter on the left, and a dishwasher to the right, beneath the sink's draining grooves (if you are right-handed). Of course, these arrangements can vary according to personal taste, and also because there's often a window on one of the walls.
Full Circle Construction Inc.Separate your cooktop and sink. With a layout where both runs are roughly the same length, there's usually space to separate the sink and cooktop on different runs. As the main prep space in a kitchen is typically between the sink and range, the benefit of separating these is that it makes this countertop area as generous as possible.
This arrangement also creates a distinction between your kitchen's cook zone (with the range) and wash zone (with the sink), which facilitates efficient use of the space.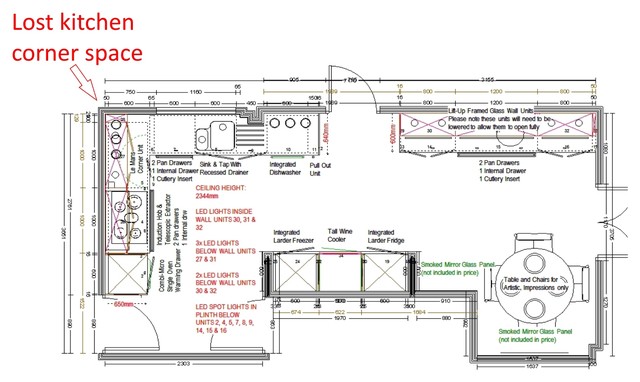 LWK London KitchensMake the Most of L-Shaped Corner Spaces
In an L-shaped kitchen layout, the space at the back of the corner cabinet, where the two runs meet, can be hard to reach without stretching and straining. It's also difficult to see its contents. As a result, this corner space can easily be wasted, losing its potential because it's simply too awkward. But there are solutions specifically designed to maximize this problematic area.
Jackson Design & RemodelingIncorporate clever corner solutions. Storage options for kitchen corners include Le Mans pullout units, as pictured, Magic Corner units and carousel units. The first two of these options fully retract into the back of a corner cabinet, allowing you to use the entirety of this space for storage. On opening, they swivel outward and toward you, making all of the contents easy to see and access. Alternatively, the corner carousel option is smaller, and rather than extending outward, it rotates the cabinet's contents through 360 degrees and into reach as needed.
Each of these options is also conveniently located beneath the work surface, so heavy kitchenware, such as mixers and bread makers, don't have far to travel to your countertop and back again. If you're thinking about an L-shaped kitchen, don't forget this corner cabinet and be sure to include one of these solutions during planning, so you can maximize the space.
Christie's Design Build RemodelingCreate an Island
An island can work with either L-shaped kitchen layout — a design with one run longer than the other or with equal-length runs. It depends on personal preference, but within both types, the island can house the cooktop or the sink. (Though this would not work for people want to keep their island surface clear.)
With the sink or cooktop on the island, one of the L's legs would house tall cabinets, while the other would hold the lower cabinets, with uppers above. This second run would easily accommodate whichever appliance (sink or cooktop) is not on the island.
If you want to encourage a sociable setting, the kitchen island could have some seating across the back of it, farthest from the cook area. The island also usually offers additional storage.
Tim Cuppett ArchitectsAdd a Table and Chairs
If a kitchen island won't fit (or you just don't want one), consider a dining table, a casual breakfast bar or even a couple of stools pulled up to the countertop. It can be a way to create some space where you could work, sit and talk, or have a bite to eat, usually while being able to face your family or guests.
LWK London KitchensConsider Recessing the L
The L-shaped kitchen layout here is ideal for its open-plan setting. While this is a relatively small space, the client was keen to create a sense of the kitchen's being slightly removed from the living area, yet continuing the same color and theme throughout the room.
We achieved this by creating a recessed look for the kitchen, with a 10-inch-high bulkhead area running above the longer run of kitchen cabinets, and a 14-inch-high section over the shorter run. These are also practical, as they hide the feed for the spotlights. There's a growing trend in 2016 for kitchen ceilings to become more prominent, with enhanced details, deeply coffered ceilings and lowered bulkheads becoming more popular.
Winsome Interior DesignTell us: What do you love — or want to improve — about your L-shaped kitchen? Share your thoughts and photos in the Comments.