Most people look at their home and dream of making improvements. But the catalyst for actually beginning a renovation project varies. The 2019 Houzz & Home report sheds light on some of the key reasons homeowners finally make the leap from dreaming to taking action.
Jess Blackwell PhotographyThe national study, fielded between Feb. 13 and April 16, 2019, collected responses from more than 142,000 registered U.S. Houzz users, including about 67,000 who renovated their primary homes in 2018.
Here are some of the main reasons homeowners renovated, along with some of their top priorities.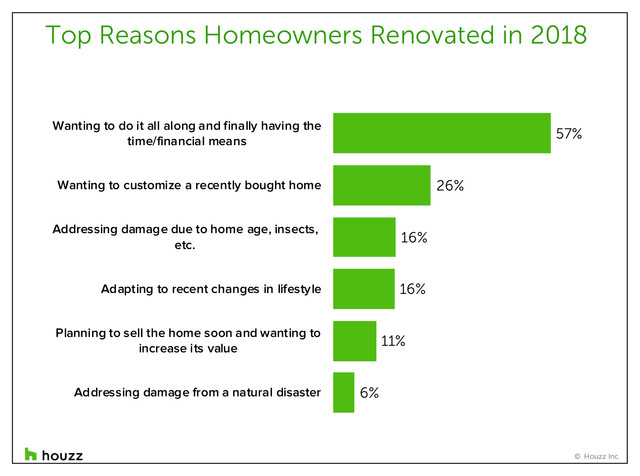 Erin CarlyleFinally Having the Time or the Means Drove Most 2018 Remodeling Projects
The top trigger for home renovations in 2018 was "wanting to do it all along" and finally having either the time or the financial means (or both). The second-most-popular reason homeowners cited for renovating was wanting to customize a recently purchased home.
Damage to homes also led to renovation activity last year, with natural disasters driving 6 percent of renovation activity in 2018. In fact, one in eight renovating homeowners reported that his or his home had been damaged by a natural disaster in the previous five years. Water damage from a plumbing or other malfunction was another common source of damage to homes, affecting 15 percent of renovating homeowners over the previous five years.
Ramos Design Build Corporation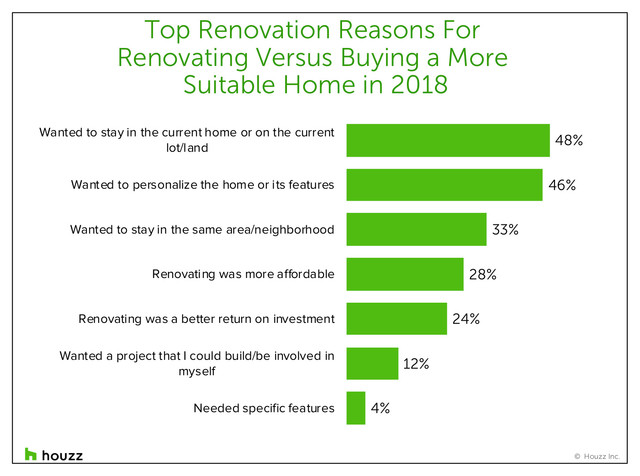 Erin CarlyleWanting to Stay Put Motivated Many 2018 Renovations
The No. 1 reason homeowners on Houzz chose to renovate in 2018 rather than buy a more suitable home was wanting to stay in their current home or on their current property (48 percent). A close second was wanting to personalize the home or its features (46 percent). One-third said they wanted to stay in their neighborhood.
Allison Merritt Design, LLCDesign and Function Were Top Priorities
Once homeowners made the decision to renovate, their top priorities for the outcome of the renovation were clear. Improving design (88 percent) and functionality (81 percent) drove most of the process. Other priorities were financial considerations, such as increasing resale value (67 percent), minimizing costs (63 percent) and improving energy efficiency (62 percent).
Health, eco-friendly and smart-tech considerations appeal to a subset of renovating homeowners. Thirty-five percent mentioned addressing health concerns as a high priority, 30 percent said integrating green materials was important and 27 percent said integrating smart technology mattered.
Similar-size groups cited these same factors as low priorities. Thirty-five percent said addressing health concerns was a low priority, 27 percent said integrating green materials was, and 33 percent said integrating smart technology was.
ED Enterprises, Inc.Staying on Budget Was a Top Challenge
Renovating homeowners said their top challenges were finding the right service providers and staying on budget (32 percent for each), as well as finding the right products (31 percent).
To a lesser degree, renovating homeowners cited dealing with the unexpected and staying on schedule (22 percent for each) as additional renovation challenges, as well as funding the project, educating themselves and defining their style (17 percent for each).