New products and styles for cabinets and countertops were on display at the Kitchen & Bath Industry Show, the industry's biggest event, held in Las Vegas from Feb. 19 to 21, 2019. Dark tones for cabinets and counters were seen throughout the show, as well as engineered surfaces inspired by natural and industrial materials. Read on to learn about the new trends we spotted at the trade show for the kitchen and bath industries.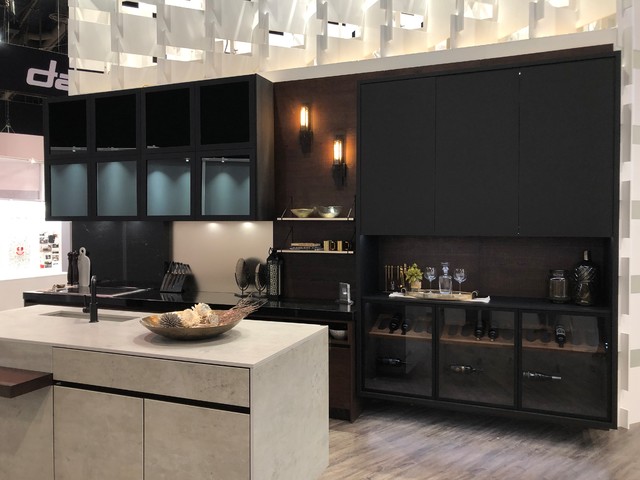 Erin CarlylePhoto by Alix Angelopulo of Houzz
Cabinets Emerge in Dark Colors
White cabinets remain the most popular choice for kitchen renovations, with wood and gray in second and third place, respectively, according to Houzz data. But a number of vendors are seeing new interest in darker cabinets. Reps from Cabico, a custom cabinetry company in Canada, say many visitors were interested in their matte black cabinets on display at KBIS (shown in this photo).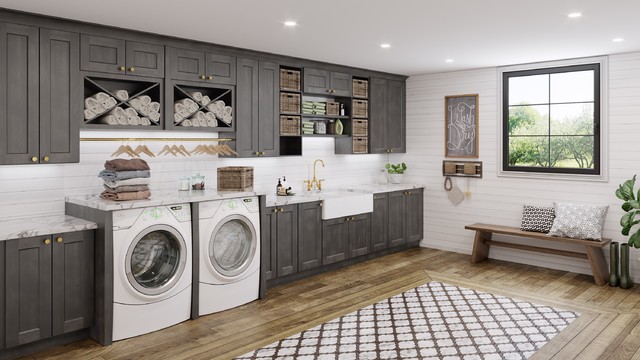 Erin CarlylePhoto from U.S. Cabinet Depot
Cabinetmaker U.S. Cabinet Depot debuted a new Cinder color at the show — a warm brown-gray (shown in this photo) that was popular with visitors to the company's KBIS booth. In person, the cabinets look like a blend of charcoal and brown.
Navy Cabinets Remain a Trend, and White Warms Up
Navy cabinets are also still quite popular, and some countertop makers are responding by injecting navy and other blues into their countertop materials (more on this below).
White cabinets aren't going anywhere, of course, but designer Eleanor Bouchard at the Cabico booth notes that warmer whites are rising in popularity. She also says wood cabinetry with a bleached-out, rustic look is gaining steam.
Work with a kitchen designer near you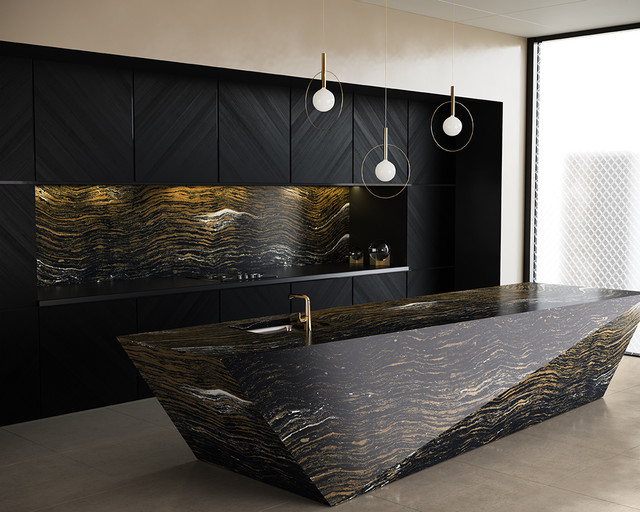 Erin CarlylePhoto from Cambria
Countertops Take On Darker Tones
The patterns for engineered quartz counters are continuing to get more interesting and dynamic, and many home remodelers are choosing this material for its durability. Just this year, engineered quartz became more popular than natural stone for upgraded kitchen countertops in kitchen remodels, according to Houzz research. While white remains the most popular color for upgraded counters in kitchen remodels, multicolored counters are the No. 2 pick, while gray is in third place, Houzz data reveals.
Several companies showed off darker engineered countertops this year at KBIS. This photo shows the new Golden Dragon design from Cambria, an engineered quartz that features a black background with gold veining and white highlights. The design is part of the new Black Marble collection that Cambria launched in response to the growing demand for darker countertop styles.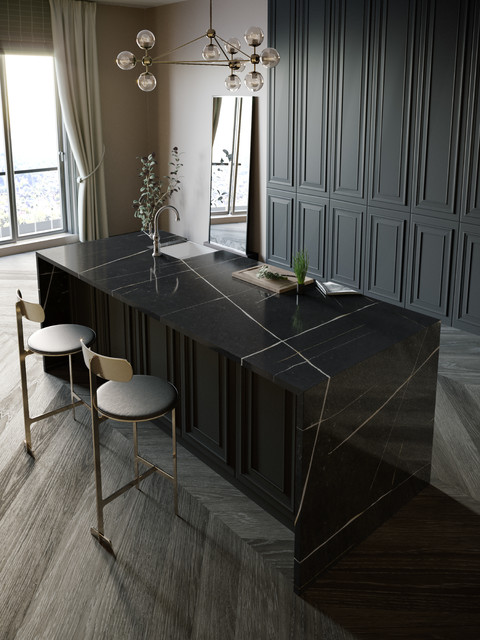 Erin CarlylePhoto from Cosentino
Cosentino introduced Eternal Noir, an engineered quartz in rich black with warm white and gold veining. In this photo it's shown as an island countertop material — note the dark cabinetry in the background.
Find bar and counter stools in the Houzz Shop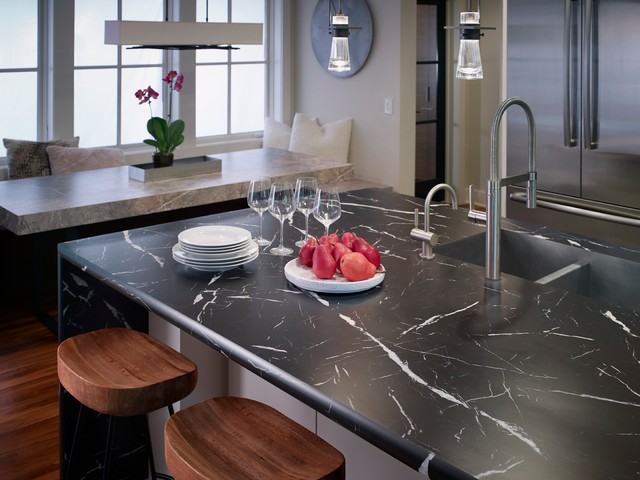 Erin CarlylePhoto from Formica
Formica Group also got into the dark-countertop business at this KBIS with its new Nero Marquina laminate, shown in this photo. Of all of Formica's new products at the show, this design generated the most interest, says Owen Serey, assistant marketing manager at the company.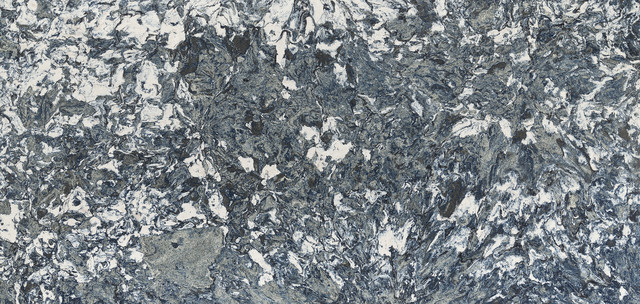 Erin CarlylePhoto from Cambria

Engineered Counters Take On Navy
Multiple manufacturers displayed navy or navy-flecked counters, which marry well with still-trending deep blue cabinets; navy is especially popular as an island-base or lower-cabinetry color. This photo shows Cambria's new Islington design, which has dramatic navy and other blue tones interspersed with grays and whites. It's also part of Cambria's new Black Marble collection.
Find a kitchen and bath remodeler near you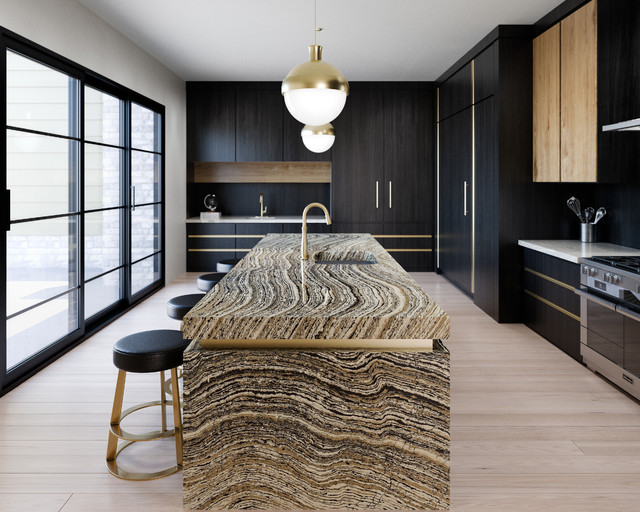 Erin CarlylePhoto from Cambria
Wood-Look Engineered Materials Debut on Countertops
Wood-look patterns have been trending on flooring and wall applications for some time, but it's new to see them on countertops. Clairidge, shown in this photo, is Cambria's first wood-look design. It features tan, walnut brown, cream, black and gray in undulating parallel layers that mimic the look of wood grain. The design is the inaugural offering of the company's Woodstone collection, which is inspired by the tones and movement of various wood grains. Again, you can't help but notice the on-trend dark cabinetry in this image.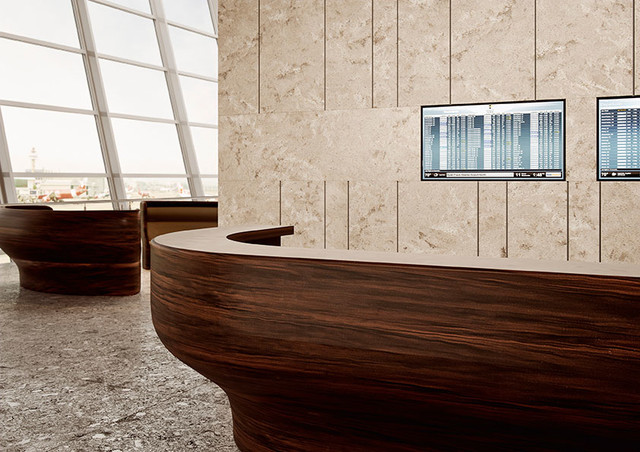 Erin CarlylePhoto from Corian Design
Corian introduced two wood-look designs for its solid-surface products, and this photo shows one of them, Mahogany Nuwood. Corian's flexible solid-surface products can be applied to curves, as shown in this photo.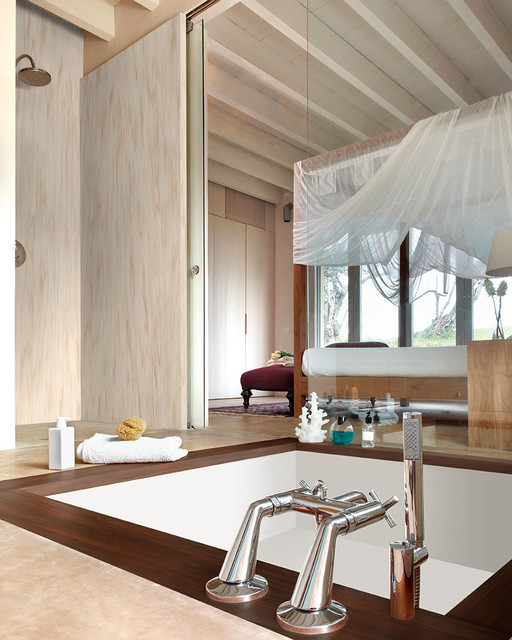 Erin CarlylePhoto from Corian Design
Corian's second wood-look design that debuted at KBIS is the paler Beech Nuwood.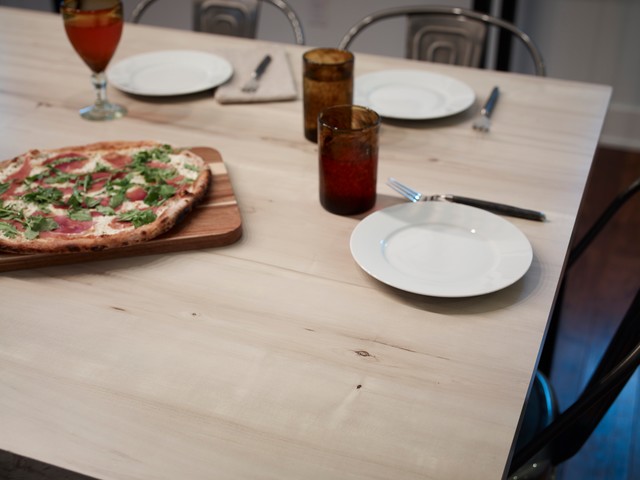 Erin CarlylePhoto from Formica
Formica alsoadded two new wood-pattern laminates, including a white knotty maple, shown in this photo, and a smoky walnut.
Shop for wood-look tile in the Houzz Shop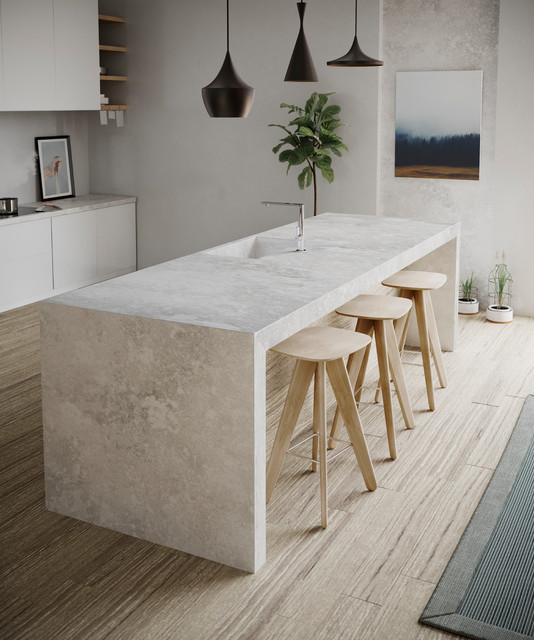 Erin CarlylePhoto from Cosentino
Cement-Like Countertops Add an Industrial Touch to Kitchens
Some countertop manufacturers debuted new patterns that echo the look of cement or Cor-Ten steel and work well with industrial-style interior designs.
Cosentino's Loft series for its Silestone product features two new designs named after hipster enclaves Brooklyn (in New York City) and Silver Lake (in Los Angeles). This photo shows the new Silver Lake design, which has a white background and a cement-like pattern in soft gray. Brooklyn has a darker gray cement-like look.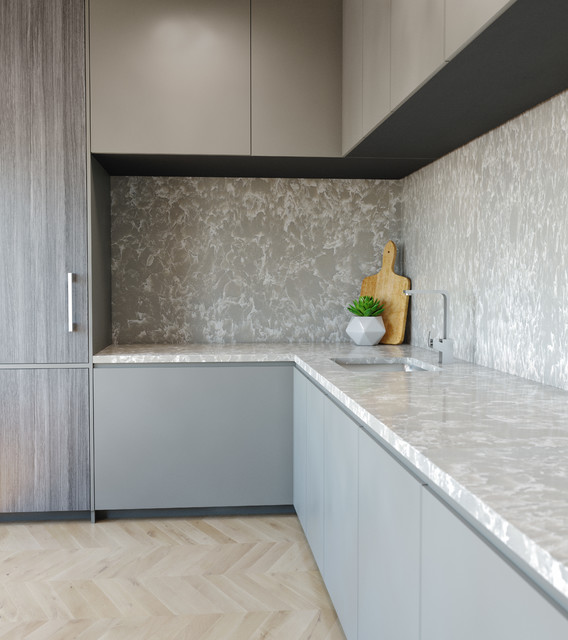 Erin CarlylePhoto from Cambria
Countertop Makers Show Off Backlit Surfaces
Several of the manufacturers at the show featured backlit engineered surfaces. Cambria's recently launched Myddleton (shown here) and Baybridge engineered quartz designs highlight lighter taupes and beiges that create a translucent effect when backlit. "Consumers are now interested in backlighting kitchen islands, wet bars and even bathroom or closet vanities," says Eloise Goldman, vice president of public relations at Cambria.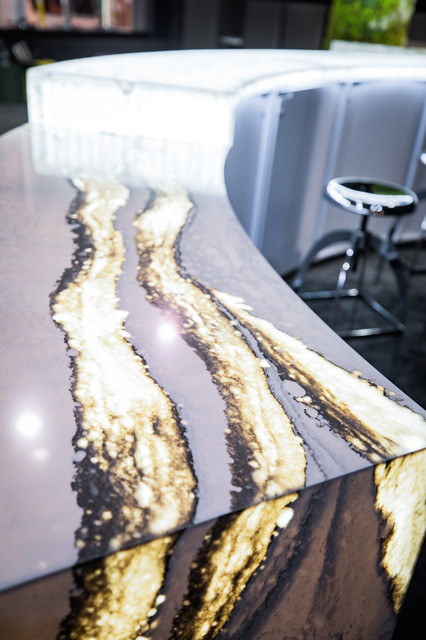 Erin CarlylePhoto from Cambria
Here's a look at Cambria's Skara Brae pattern with backlighting, as shown in the company's KBIS booth.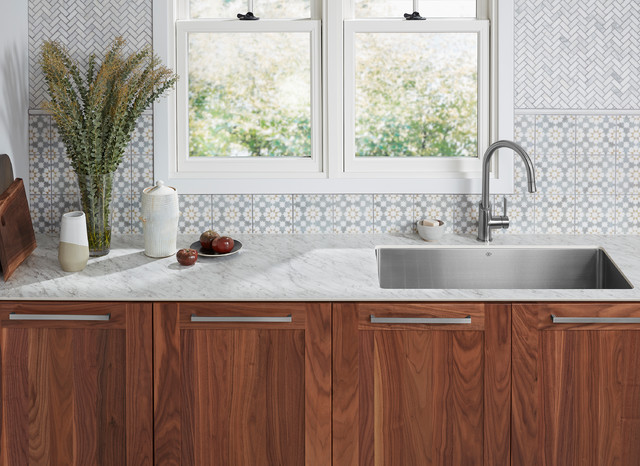 Erin CarlylePhoto from Wilsonart
New Technology Allows for Thinner Engineered Surfaces
Wilsonart introduced ultrathin countertops in a range of designs: stone and quartz looks as well as wood-look and steel patterns. The European-inspired ultrathin surfaces are one-half-inch thick and can be installed with an undermount sink. The material is a new composite made of resins and paper.
Cosentino also introduced a thin surface with a 4-millimeter-thick version of its Dekton product, an engineered material made of glass, quartz and porcelain known for outdoor uses due to its durability and resistance to fading. Thanks to its new thinner profile, the product can be used on cabinetry doors and drawers, backsplashes and wall cladding in kitchens and baths, as well as on furniture, and Cosentino is hoping designers will start incorporating the product more indoors. Dekton Slim is available in nine colors.