If you're looking to start a renovation project that may require a building permit, you might be interested to know that more than half of homeowners report paying $500 or less in total fees for their permits, according to the results of a new survey from Houzz. Of course, we can't promise that your permit fees will be similar, as a small slice of homeowners report paying more than $5,000 to get their permits.
Bay Area Custom Homes, Inc.The numbers come from a survey of 294 Houzz users who were either preparing to apply for a building permit or who had applied for one in the last two years and had their application in review or already approved. Read on to find out what else they said about the permit process.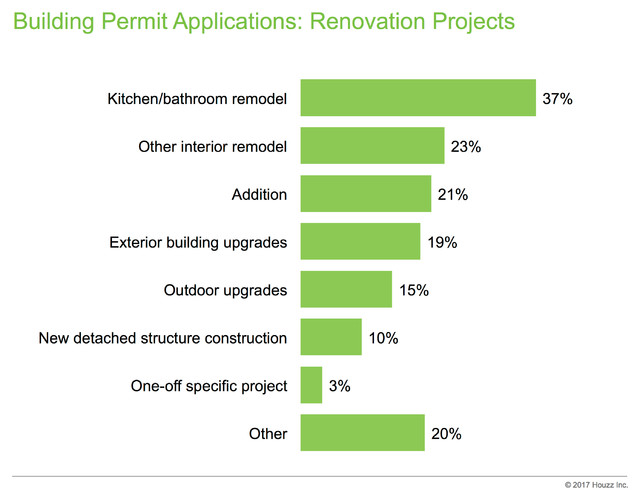 Erin CarlyleKitchen and bath projects lead permit requests. Kitchen and bathroom remodels are the most common projects requiring permits, followed by interior remodels and additions. This may come as no surprise given that kitchens and bathrooms are the most popular remodels people undertake, followed by living rooms, according to Houzz research.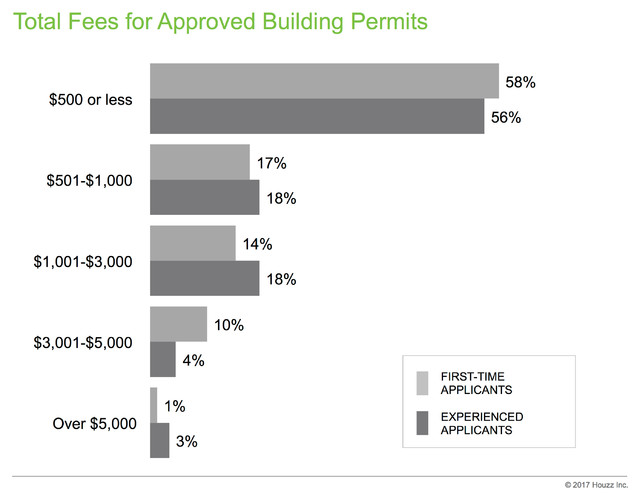 Erin CarlyleHow much does it cost? More than half of homeowners — both first-time applicants and experienced ones — report paying $500 or less in fees for an approved permit. A little less than one-fifth of each group reports paying between $501 and $1,000. And a small minority spends far more: 1 percent of first-time applicants and 3 percent of experienced ones say they pay more than $5,000 in total fees for an approved permit. Let's hope you fall into the majority on this one.
ANX / Aaron Neubert ArchitectsShop for kitchen fixtures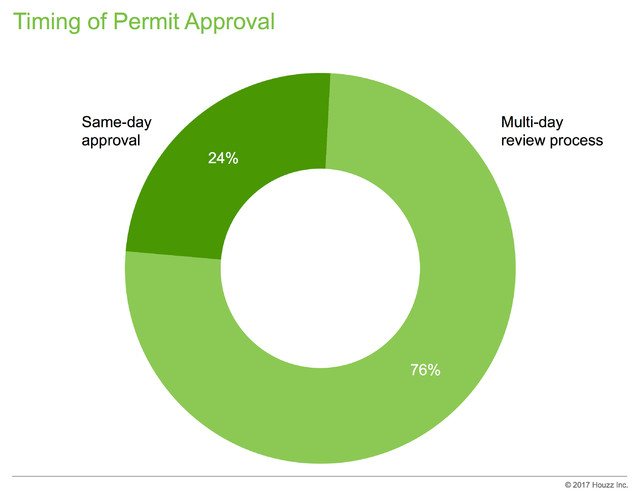 Erin CarlyleHow long does it take? It's not the typical experience, but some permits are approved the same day they are submitted, according to the survey results.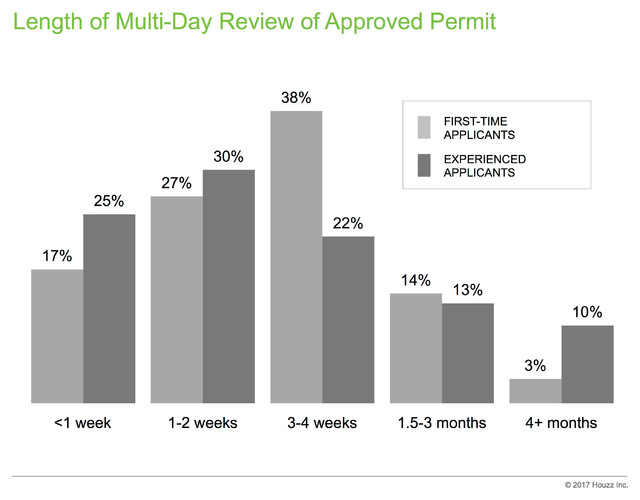 Erin CarlyleLess than a month is common. The remainder of permits (76 percent) require multiple days for approval. Of those, most (83 percent for first-time applicants, 77 percent for experienced) take less than a month to obtain. Notably, a greater share of experienced applicants (10 percent) had building permit approval take four or more months, while only 3 percent of first-timers faced that timeline.
"Homeowners who have gone through a permit process once before may be more willing to embark on projects with greater structural or design complexities than first-time applicants," says Nino Sitchinava, Houzz's principal economist. "As a result of these complexities, the application review process may extend beyond typical ranges to include additional review cycles by planning, zoning, public works or other local commissions."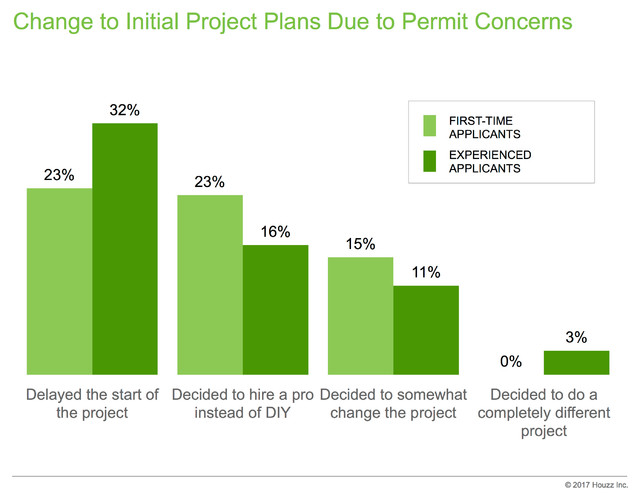 Erin CarlylePermit application jitters. Nervous about getting a permit? You're not alone.Early concerns about the building permit process — specifically the worries homeowners have before learning what is required — caused 23 percent of first-time applicants and 32 percent of experienced ones to delay the start of their projects. These concerns also led a good chunk of applicants to hire a pro to handle the renovation instead of doing the work themselves.
Find a home renovation professional on Houzz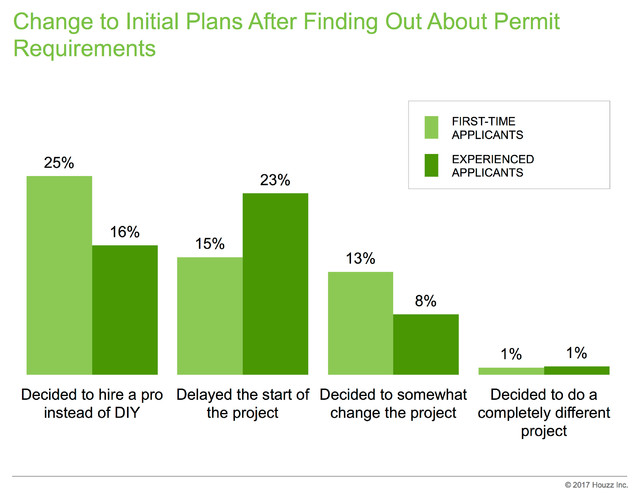 Erin CarlyleWorries may continue after learning more. Finding out what the permit requires causes delays for some homeowners, especially experienced applicants. In fact, the most common change to initial plans among this experienced group is delaying the start of the project.
Nearly half (47 percent) of first-time homeowner applicants change their plans in some way after learning about permit requirements, while 42 percent of experienced applicants do so. The most common change among first-timers (25 percent) is deciding to hire a pro instead of undertaking a DIY project.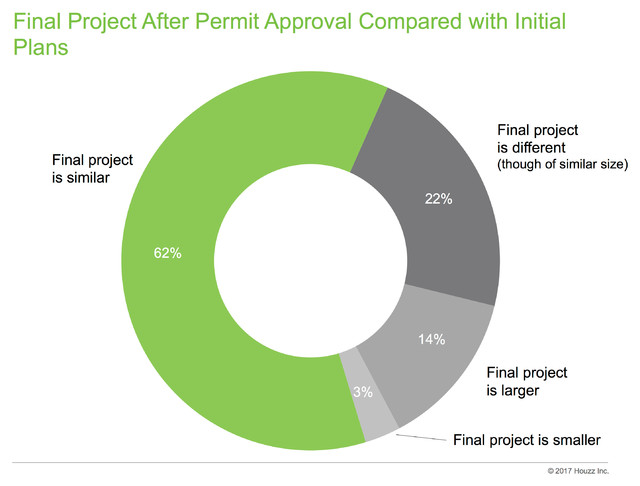 Erin CarlyleBuilding regulations lead to plan changes. The policies of local building departments make revisions necessary for the projects of more than a third of homeowners. One in five projects ends up different than initially planned (though of similar size), while one in seven ends up larger than originally planned. Nearly two-thirds of projects remain similar to what was initially envisioned.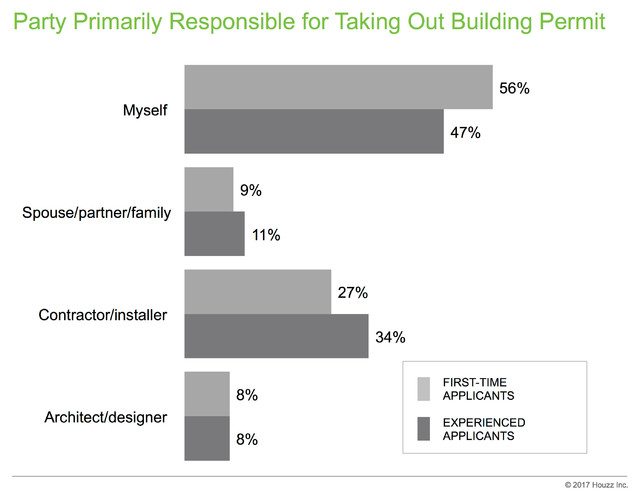 Erin CarlyleSeeking professional help. More than a third of homeowners hire a professional to help with the building permit process, with experienced applicants (42 percent) more likely to hire than those who are applying for the first time (35 percent). Even with professional help, three-quarters of homeowners report that they stay involved in the permitting process.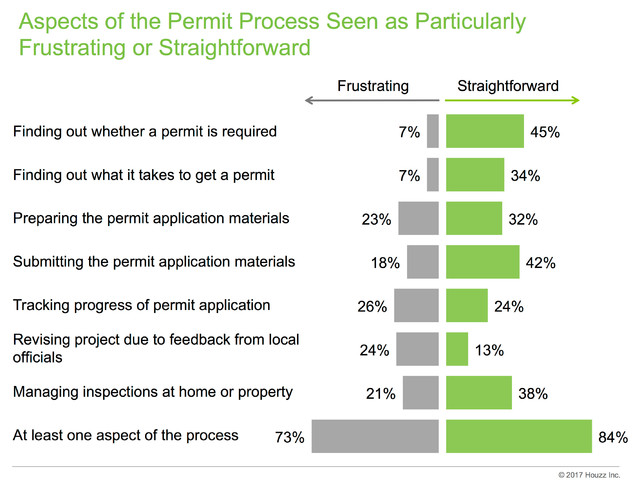 Erin CarlyleMixed feelings abound. Some respondents found the permit process fairly straightforward, while others found aspects of it frustrating. In terms of finding out whether a permit was required, about 45 percent of those who received approval said the process was straightforward, while 7 percent said it was frustrating. The rest (48 percent) were somewhere in the middle.
About 73 percent of homeowners who received a building permit found at least one aspect of the permit process frustrating, and about 84 percent found at least one part of the process straightforward.
Wanda Ely Architect Inc.The online survey of registered Houzz users was fielded Aug. 9-31, 2017. It gathered information from 294 users who reported they were at least 25 years old and owned a home. The sample consists of 146 respondents who are applying or have applied for a building permit for the first time, as well as 148 more experienced users.
Your turn: What was the permit approval process like for your project? Please share your stories, along with your best advice for fellow readers, in the Comments.