Remodeling is an opportunity to create a space that reflects your personal style — but just as important, it's an opportunity to incorporate better functionality for your everyday living. As a professional organizer, I've seen homes that were aesthetically gorgeous but just didn't flow well for my clients' needs. This can happen when family needs change or when a home's layout simply isn't maximized for productivity and efficiency.
For the most successful remodel, you'll want to consider how you live now and how you'd like to live ideally. After all, remodeling is a chance to set new, more organized habits. Why not create a home that will make implementing your new habits easier? Here are four questions I recommend that you consider before you remodel.
Extreme Design1. How Do You Use Your Spaces?
Consider the routines of your household members. How do you currently use your spaces? What isn't working?
For example, if you are a no-shoes-indoors household and shoes tend to pile up near your home's entrance, consider having an attractive built-in added to the front entry or the garage (or wherever you enter the house) to store shoes. Or you could add a freestanding shoe shelf or cabinet for the same purpose.
Braun + Adams InteriorsSimilarly, if you have children, consider where they do their homework. If you want them to be in common areas near you as they work, you may want to plan for work surfaces with storage nearby for their supplies. That way, you can prevent the "I'm still using it" clutter that can linger for days.
Also consider where you will work. Dedicating a space for important papers, basic office supplies, electronics chargers and equipment, checkbooks, and thank-you cards will help keep you organized. How frequently do you lay out paperwork and work on your laptop? If you often work from home — even if that work consists of managing other family members' schedules and papers — an ergonomically designed workspace could boost your productivity and be better for your body than working from the couch. If your work at home is limited to paying a few bills online, perhaps you don't need a dedicated work surface. However, I still recommend planning space for keeping your office supplies and files organized in one location.
You may even want to consider hiring a professional organizer to help you think through your needs, recommend appropriate storage and come up with creative ideas to maximize your space before you finalize your remodeling plans.
Find a professional organizer on Houzz
Cascade Builders & Associates Inc.2. How Many People Will Be Using Storage Spaces?
Your remodel plan should allow for enough storage for everyone in your household. Otherwise you may end up with excess items that don't fit in designated storage spaces, resulting in a cluttered-feeling home. Some upfront planning can prevent this problem.
Pantry. I have seen many beautiful pantries that were just not designed to be large enough for the needs of the family, resulting in overflow and messy counters. Before you commit to the size and layout for your pantry or other food storage area, consider your grocery shopping patterns. How large is your household and how often do you shop? Do you tend to purchase bulk items or smaller amounts? If you are an avid baker, will you have sufficient space for your ingredients and baking tools?
Oak Hill ArchitectsDump zone. You'll have more success sticking with house rules to manage messiness if your home's flow makes sense for your lifestyle. When you and your family members enter the home, where do the items you are carrying go? Backpacks, purses and mail need a designated location so they don't end up on the entry table or kitchen counter — or worse yet, the entry floor.
If your square footage allows, a mudroom can be an ideal dump zone for these items as well as for jackets and keys. A mudroom also can be the perfect place to stash things you need to return (to people or stores) so they don't clutter up your main living space. I also would advise creating a space in the mudroom to house a small recycling bin and shredder so you can quickly deal with mail that doesn't need to enter the home.
The mudroom should be built close to where you enter the house but, for aesthetic reasons, preferably not visible from the front main entrance. A mudroom with garage and side door access would be ideal.
If your remodeling plans can't accommodate a full mudroom, you still can incorporate a drop zone elsewhere, perhaps with a small counter and a bank of cabinets in the garage, in the laundry room or with a multipurpose entryway closet.
Browse mudroom photos to inspire you
ONYX DESIGN COLLABORATIVE3. Will Your Family Situation Change in the Near Future?
It's wise to consider potential family changes as you come up with a remodeling plan, particularly if you anticipate these changes in the near future.
Children. If you intend to have children, keep in mind that kids and their belongings take up a lot of room as they grow older. An adult-size closet will be useful for storing and organizing the various stages of childhood, from babies' play mats and diapers to toddlers' toys, children's dress-up chests and teens' sports equipment. Large closets that corral these items can help maintain an uncluttered feel in the rest of the room.
Empty nest. Perhaps your remodel comes toward the end of your child-raising years, and a reduced household size is on the horizon. If so, think about how you might repurpose your children's rooms. If you want an office that doubles as a bedroom when your child visits, it may make sense to incorporate a built-in wall unit with drawers that could serve as a dresser for short visits and as longer-term storage for a few items. If you'd like your child to feel some ownership over the space, you could paint the walls the child's preferred color and use a few of his or her belongings as room decor.
Sandra Bird Designs, Inc.Aging parents. If you plan to move your aging parents into your home, consider including features such as a ground-level bathroom with a walk-in tub. This kind of accommodation can be helpful for someone with limited mobility since it reduces the chance of a slip and fall.
If your parents plan to live with you indefinitely, building an in-law unit or even a mini kitchen could keep them safely nearby yet allow them to maintain their independence and provide both generations with their own space.
12 Must-Haves for Aging in Place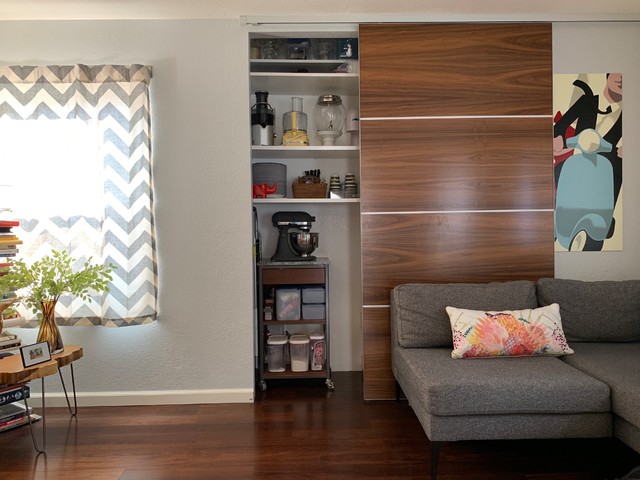 Tailorly, Professional Home Organizing4. Do Your Spaces Have a Useful Purpose?
If you plan to stay in your home for the long term, don't be afraid to design it to support your lifestyle. After all, you've paid (or are paying) for every square foot of your house, and therefore any unused or inefficient space is wasted real estate.
A couple of years ago, we made the bold move to tear out the fireplace in our family room, which we had used only a handful of times in a dozen years. Meanwhile, our small appliances were cluttering our kitchen countertops or were housed in awkward-to-reach spots in cabinets and scattered available spaces throughout the house. So we replaced the fireplace with a large storage space, shown in this photo, which contains all the small appliances we don't want on the counter, plus party supplies, a baking cart, a sewing cart and a folding ladder for reaching the top shelves.
We love this solution. Our appliances and supplies are easy to reach and put away, so we use them more frequently. We feel that this change was worth the cost because our home is so much more functional.
The DaralySome changes to improve the flow of a home may require simply rethinking the purpose of existing spaces rather than knocking down walls.For instance, many houses have both a living room and a family room, one of which may not get much use. One possibility is to convert one of these spaces into a dining room (if you don't already have one), which could better equip your home for entertaining.
My favorite high-impact room repurpose is to convert a closet into a more useful space. If you are the parent of a crafty child, as I am, you'll understand the need for a large workspace with storage options for never-ending craft supplies and tools. For my daughter's room, I added a storage bed with drawers in the base to hold clothing, freeing up room in my daughter's closet to add a crafting work surface plus shelves and cabinets.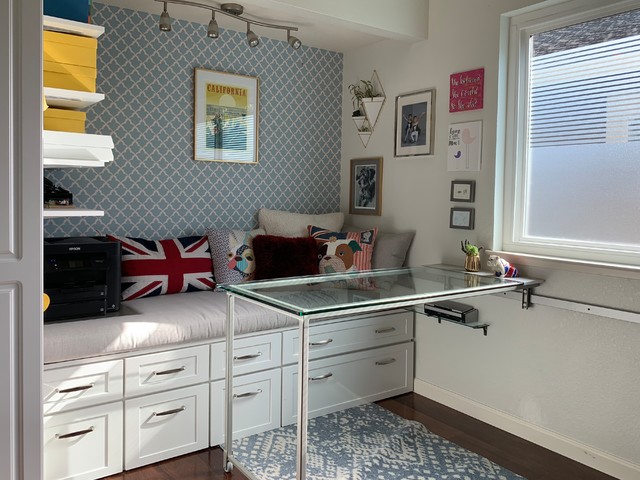 Tailorly, Professional Home OrganizingOur extra bedroom had always been used as an office, but we changed it to better suit my needs. More specifically, we got rid of the closet and repurposed that space as my work zone.
This photo shows my bench seat, which is in the space where the closet previously stood. The cabinets contain my business items and give me easy access to daily supplies. Eliminating the closet and its doors gave the room a more spacious feel and helped it feel more like an office than a converted bedroom. My desk slides on a rail and wheels so I can easily access the cabinet bay beneath the bench.