It's rare for homeowners to dust off their hands and say, "There! Our home is complete!" There's always something we feel we can do to make our spaces better, more efficient, more comfortable or just more visually appealing. With that in mind, we've pulled the most bookmarked stories from our Great Home Projects series to show you high-impact changes you can make to improve your home. Each story contains useful tips and things to consider, including whether you need to hire a pro, get a permit and more. We've included the cost information below; click the link to get more details about each project.
emma delon1. Get the Closet of Your Dreams
Learn the various types of closets, key measurements, storage solutions and more.
Costs:
Small linen closets: A few hundred dollars, depending on materials
Modest-size wall closets: Less than $1,000 or even $500 if you choose less-expensive materials
Walk-in closets: At least $750
Higher-quality and custom closets: Several thousand dollars, easily
Old World Kitchens & Custom Cabinets2. Turn a Spare Bedroom Into a Walk-In Closet
Find out if converting an extra bedroom into additional clothes storage is right for you, and what your options are in terms of storage systems and more.
Cost: A low-end walk-in closet will generally set you back $500 to $1,500. You can expect to spend $1,500 to $8,000 for a medium-quality closet, and $8,000 to $12,000 (or more) for a higher-end setup with fancier finishes and more features.
Roberts Group3. Create a Secret Doorway Behind a Bookcase
Ever imagined having a secret room just for yourself or to hide something valuable? Here's what to know about how much space you'll need, who to hire, structural requirements and what it will take to get it done.
Cost: $1,249 to $2,000
Dumican Mosey Architects4. Design a Family Photo Wall
It seems simple enough: Put some photos in some frames and hang them on a wall. But getting a good-looking gallery wall takes a bit more planning and preparation. Here's a look at the basic steps, some smart tricks and advice on whether hiring someone to help would be right for you.
Cost: A DIY installation can cost $300. A larger installation involving reprinting photos and having them professionally framed and hung could cost as much as $3,000 or more.
Ying Li Architect5. Get a Built-in Media Wall
If you've got the TV, sound system, speakers and more ready to go but they're just not working on your wall, consider a built-in cabinet system to beautifully organize all of your electronics for the best experience.
Cost range:

Moderate-grade materials: For a unit measuring 12 feet wide and 8 feet high, expect to pay between $2,000 and $4,000 for moderate-grade finishes and appointments.
Higher end: A more upscale unit, with more bells and whistles and a stained wood finish, would probably run you $3,000 to $6,000.
DIY: Homeowner Christina Katos completed her built-in project for $2,000. (Click on the link below to see more.)
Organized Living6. Make Your Garage a Storage Powerhouse
See how a professional can help you finally get your garage decluttered and organized.
Cost: It depends on material selection. An 8-foot run of open shelving in a garage could cost $1,000 to $2,000 (rough estimate). A row of storage lockers of the same length might cost $2,000 to $3,000.
SV Design7. Bring Out Your Home's Character With Trim
It might sound boring, but some of the small details of your home — like trim — can have a huge effect on the way it looks and feels. See how new trim might be just the embellishment to take your home to a new level.
Cost: If you were to trim a small bedroom with crown molding and a more substantial baseboard, you could probably do the project for less than $500. The cost for large rooms with custom casework will creep into the thousands of dollars, depending on the wood species and detail.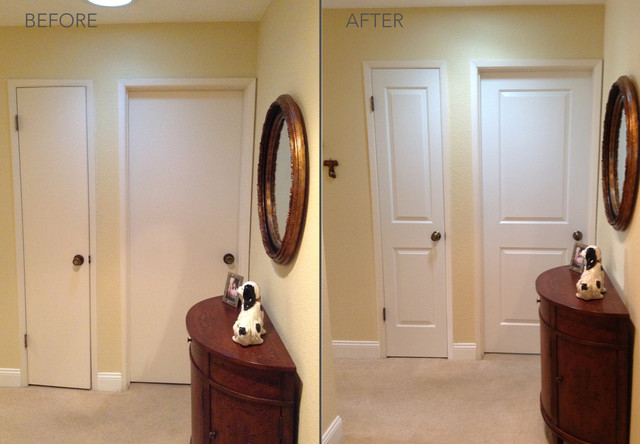 HomeStory Doors of Orange County8. Upgrade Your House With New Interior Doors
Swapping out your doors can instantly elevate the style in your home. Click the link below to learn the different types, styles, materials and more.
Cost: Doors start at under $50 for a hollow core with a primed surface. Prices jump significantly for solid wood doors; expect to pay $200 to $300 for the more common styles and sizes.
Moving on up into specialty woods, such as exotic veneers, the price will balloon to $500 to $1,000 per door, and even more for antique and custom doors. Keep in mind that you will have to pay for installation labor and finish materials in all circumstances.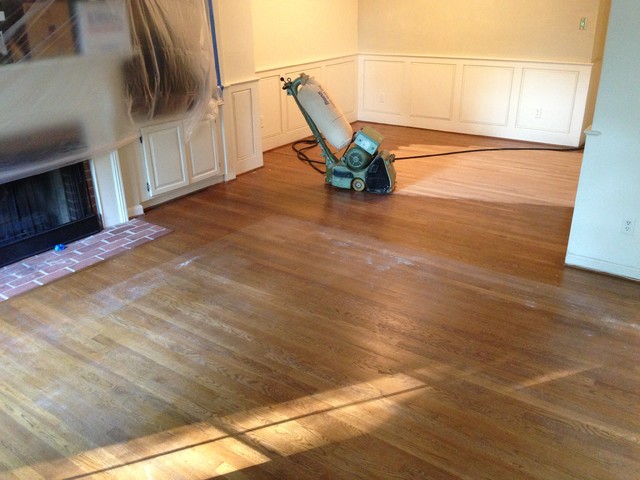 Royal Oaks Flooring9. Refinish Your Floors
Hardwood floors will start to show wear and tear after about 20 years. But before you rip everything out and replace them with costly new floors, consider refinishing your existing floors first.
Cost range: Most floor refinishers charge by the square foot, but prices vary considerably, depending on your region, your home's accessibility, the size of the job and the work you want done (including the color of the stain — dark stains take more prep time).
Plan to spend between $2.50 and $5.25 per square foot for sanding, staining and three coats of finish.
Becki Peckham10. Add a Murphy Bed
Beds take up a lot of space. If you have a guest room that's used only a few days out of the year, that means you're potentially wasting a lot of space. A fold-up bed could help your spare room perform multiple duties.
Cost: This depends on the system, the size, additional shelving and cabinets, who will install it and more. You can get a simple Murphy bed that folds out from what looks like a large cabinet (like the one seen here) for about $2,500; you can get semicustomizable prefab versions starting at $5,000. Bringing in professionals to help integrate a one-of-a-kind custom design will cost more.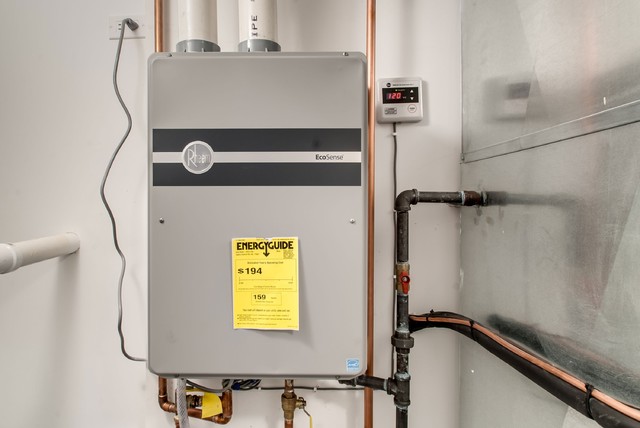 Steele Consulting Group11. Switch to a Tankless Water Heater
A properly designed and well-installed tankless water heating system can provide you with constant access to hot water and lower monthly bills.
Cost range: In the U.S. the cost ranges from $2,000 to $4,500 for a completely new system installed; it can vary a lot depending on the amount of work required and the number of individual units.
Kristie Barnett, The Decorologist12. Remodel Your Fireplace
Replacing a fireplace wall is mostly an aesthetic choice, but if yours is a commanding focal point in your room, then it could be worth the time and effort for an overhaul. Plus, an updated fireplace can also increase resale value.
Cost: Drywalling over a brick fireplace could run about $1,500. A 6-foot-wide floor-to-ceiling paint-grade oak or poplar fireplace with a tiled hearth could run around $2,000. Wrapping an entire fireplace wall in stone and adding a custom mantel could run around $9,000.
Echelon Custom Homes13. Tear Down a Wall
The goal of most wall-removal projects is to connect rooms and create a more open floor plan. Removing a wall can also bring more light into a space and create better flow. (An exterior wall can also be removed and the area bumped out to increase space.)
Cost:

To remove a non-load-bearing wall, one story or two, when you're installing carpet: $2,500 to $3,000
To remove a single-story load-bearing wall: about $10,000
To remove a two-story load-bearing wall: $20,000 to $30,000
AMEK Custom Builders14. Add a Reclaimed-Wood Wall
A wall paneled in reclaimed wood can add texture and warmth to a space. It also is a way to reuse or repurpose a material left over from a previous renovation or remodel.
Cost: About $4 to $7 per square foot on average
Kathy Corbet Interiors15. Add a Window Seat
This is a great project if you already have a room with a large window and are looking to add more seating, storage, a focal point or all three.
Cost: Simple and small window units can cost $750 to $1,500 plus installation labor. Larger windows or projects with cabinets built into the seat can cost about $2,000 to $5,000.
mark pinkerton – vi360 photography16. Add a Skylight or Light Tube
This is a great way to bring natural light into dark or windowless rooms, but skylights and light tubes can be part of an integrated design strategy for efficient and passive heat gain.
Cost: Fixed and manually operable skylights with installation can cost a couple of thousand dollars each; automated systems can cost up to $5,000 installed.
SolarTex, Inc.17. Prevent Sun Damage Indoors
Sunlight can fade, discolor and damage your fabrics even inside your home. Consider solar window films and more.
Cost: There are a range of costs associated with the various solutions for preventing sun damage.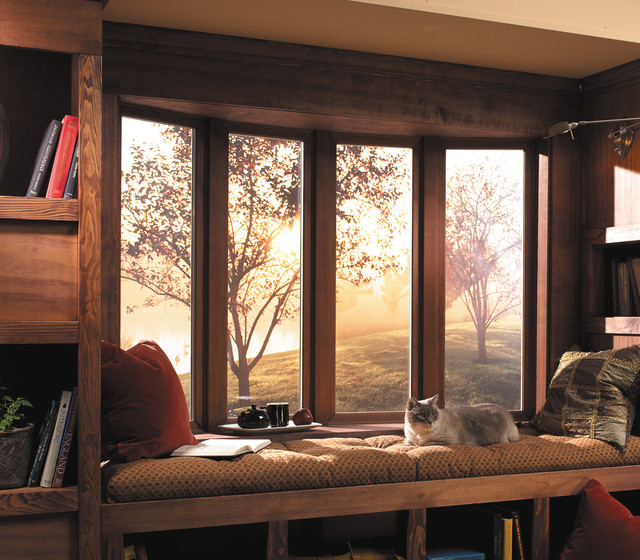 American Home Renewal Inc.18. Install Energy-Efficient Windows
According to the U.S. Department of Energy, installing Energy Star–qualified windows can save you up to $465 a year on your electric bills while shrinking your home's carbon footprint and reducing greenhouse gas emissions.
Cost: Varies based on region and window size, starting at around $300 per window installed and rising from there.
South Park Design Build19. Create a Built-in Home Bar
Create a special spot in your home for serving drinks and gathering with family and friends during parties.
Cost: Professionally designed and installed built-in bars might cost about $10,000 to $15,000, but the options and pricing vary.
OLSON LEWIS + Architects20. Add a Library Ladder
Make that vertical storage easy to reach with a rolling ladder.
Cost: A library ladder should run in the ballpark of $2,500 to $4,000 installed. However, the price will vary based on the length of the railing, type of ladder, wood species, labor rates, freight and location.
Equinox Architecture LLC21. Add a Radiant-Heat System
Save energy while increasing your thermal comfort.
Cost range: This is a major upgrade and can cost $25 to $30 per square foot for the entire system design and installation.
KraftMaster Renovations22. Install a Dimmer Switch
The light level in a room sets the mood and enhances dining and entertaining. Being able to control the lights can also make a room flexible: If you want to relax, you can turn them down. If you need to work, turn them up.
Cost: $30 for a basic dimmer switch from the hardware store; roughly $1,000 for professional labor and materials to install dimmer switches throughout a home.
Leland Interiors, LLC23. Add Wallpaper
Wallpaper (or wall coverings, as they are known these days, since many aren't made from actual paper) is a fun way to transform the look of a room without radically altering the space or investing in new furniture.
Cost:

Around $35 to $50 for a single roll of low-end paper
Around $140 for a roll of midrange paper
$300 or more for a high-end paper
Stelle Lomont Rouhani Architects24. Install a Chandelier
Add drama or define a space, such as a dining area, within an open floor plan with a statement lighting fixture.
Cost range: Given that the average electrician charges between $40 and $100 per hour, the job should cost about $200 to $300 for installation parts and labor.
Alison Kandler Interior Design25. Get a Claw-Foot Tub
Apart from the sumptuous look of a vintage tub, using one is recycling at its best, and getting one may not be as challenging as you think.
Cost: Acrylic claw-foot tubs generally range from $1,200 to $2,000. New cast iron claw-foot tubs can cost $1,200 to $5,000, though the average runs about $2,200.