Good kitchen design is made up of lots of little well-executed details. But sometimes one significant detail can make an entire kitchen feel fresh and exciting every time you're in it. Here, seven designers share a key detail that elevated their clients' kitchen design.
Landed Interiors & Homes1. Shiplap Cabinet Fronts
Designers: Lynn Kloythanomsup of Landed Interiors & Homes (interior design); The Kastrop Group (architecture)
Construction: C. Pizzo Construction
Location: Menlo Park, California
Size: 186 square feet (17 square meters); 12 by 15½ feet
Homeowners' request. "Since this is a ground-up new construction, we did not start by renovating an existing home and were able to dream up this kitchen from scratch," designer Lynn Kloythanomsup says. "In this case, the clients had a vision in mind for a modern farmhouse, so we aimed for farmhouse simplicity. We also worked with an open plan, so the colors, cabinetry and hardware needed to be cohesive across the space."
Special detail. Shiplap cabinet fronts. "They needed to be simple and stripped down," Kloythanomsup says. "We chose a custom-milled shiplap cabinet front that our cabinetmaker painstakingly calculated to ensure that the route lines were laid out equally and would align with openings. It's such a subtle touch that you wouldn't notice it immediately unless you are a fellow designer or architect. The cabinetry is painted an off-white creamy color, a signature of ours since we rarely choose to design bright white kitchens. All the trim, including baseboard and crown molding, throughout the house is painted in the same color for continuity."
Other special features. "The clients wanted to feel very sunny and joyful in their home, so we made sure to incorporate a lot of colors from the Shaker palette," Kloythanomsup says. The chrome yellow pigment inspired the backsplash tile color selection while a chrome green pigment inspired the island color, which is a custom conversion varnish to match Dard Hunter Green by Sherwin-Williams. "The kitchen cabinetry and millwork trim throughout the house are all painted in an opaque milky putty color." The countertops are quartzite. The floors are wide-plank oak.Need a pro for your kitchen remodeling project?
Let Houzz find the best pros for youFind Pros
Landed Interiors & HomesDesigner tip. "The one choice we love and that we feel that homeowners often overlook is the selection of great bar stools," Kloythanomsup says. "The bar stools here are made locally by Fyrn in San Francisco. Often bar stools are an afterthought, but we suggest budgeting them into the project at the beginning of the remodel. It just makes sense to spend a little bit more on the bar stools, the only pieces of furniture in a kitchen, so that the quality is in line with the budget for the kitchen."
"Uh-oh" moment. "It looks like a subtle moment in the design, but we really grappled with the installation of a stove hood," Kloythanomsup says. "It was not clear if we needed a hood vent according to our state code, and our clients weren't likely to use one with their style of cooking, but we suggested putting one in anyway to be safe. We chose to integrate a hood liner into a soffit built high above the stove, right above the cabinetry. We designed and built the soffit especially for this hood, so this was all considered and calculated beforehand. The soffit also conveniently caps the tall cabinets and upper cabinets so that we didn't need to build cabinets to the ceiling, and shaved that off the budget."
Backsplash tile: zellige subway in Indian Saffron, clé; wall paint: Swiss Coffee, Benjamin Moore; cabinet paint: custom conversion varnish to match Benjamin Moore's Swiss Coffee; trim paint: Rice Grain, Sherwin-Williams; island paint: custom conversion varnish to match Sherwin-Williams' Dard Hunter Green; project photography: Brad Knipstein
Nar Design Group2. Custom Refrigerator Panels
Designers: Nar Bustamante and Ashlee Richardson of Nar Design Group
Location: Sacramento, California
Size: 118 square feet (11 square meters)
Homeowners' request. This is the personal home of designer Nar Bustamante. For the kitchen, he wanted lots of countertop space for baking and entertaining.
Special detail. Paneled refrigerator that matches the backsplash tile design. Bustamante hired a local artist to meticulously hand-paint the pattern on the refrigerator panels, maintaining the sequence as it transitions across the three panels and visually aligning it with the backsplash tile.
Find a kitchen designer near you
Nar Design GroupOther special features. Walnut lower cabinets. Gray upper cabinets (Stonington Gray by Benjamin Moore). European oak flooring with a black resin fill for the knots. Bustamante used the same flooring for the toe kick to give the cabinets a floating effect. The peninsula countertop swoops out to create a small shelf space.
Designer tip. "The use of Ralph Lauren striped fabric in the upper window of the wall cabinets gives a layer of added texture not typically seen in a space as utilitarian as a kitchen," Bustamante says. "Mounted on the back side of clear glass, the fabric will remain pristine for years."
Countertop: Silestone in Eternal Statuario with suede finish; wall, ceiling and trim paint: Snowbound, Sherwin-Williams
Sarah Dane-Brown Designs3. Pressed-Tin Ceiling
Designer: Sarah Dane-Brown for Wholesale Cabinet Outlet
Location: Branford, Connecticut
Size: 320 square feet (30 square meters); 16 by 20 feet
Homeowners' request. An updated transitional New England-style kitchen with details "harkening back to times when artisans were always involved in construction," designer Sarah Dane-Brown says.
Special detail. Pressed-tin coffered ceiling. "The client chose the tin as the house was being built, so I formulated the kitchen around it," Dane-Brown says.
Other special features. Marble tile backsplash. Built-in island cookbook storage. Coffee bar.
"Uh-oh" moment. "The posts for the island came in wrong," Dane-Brown says. "They were only finished on two sides, so I had to reorder. Customers always hate it when something like this happens, but what I like to say is, 'Something is going to go not as planned.' Every designer and contractor experiences this. It's how you handle it. Kitchens are not as mathematical as people think. There are so many layers of materials, talks and decisions that no matter how diligent everyone is, stuff can happen. Just solve it and move on with love and good humor."
Locati Architects4. Dry-Storage Bins in Island
Designer: Amanda Heys of Locati Architects
Location: Jackson Hole, Wyoming
Size: 290 square feet (27 square meters)
Homeowners' request. "A working kitchen where they could have everything at their fingertips to be able to cook and make a mess but have everything very easy to clean," designer Amanda Heys says.
Special detail. Dry-storage bins at the island end. "It was a great usable space to put dry goods such as pasta and beans that added some color to the space and also stored them in a visible location," says Heys, who used Houzz ideabooks to coordinate design details with her clients.

Other special features. Cream-colored cabinets. Stainless steel perimeter countertops. White Ice granite island countertop.
Designer tip. "Stainless steel countertops are great to have for spaces that are going to get a lot of use if you are OK with the material scratching over time," Heys says. "It's very durable and really made the space."
"Uh-oh" moment. "We didn't have a perfect spot for the toaster oven, and we like to keep all appliances as much as possible off of the countertop and away in cabinets," Heys says. "It kind of sits in the back-left corner, which is OK but not totally ideal."
Cabinets: Plato Woodwork; flooring: Montana Timber Products
Elena Eskandari – Case Design/Remodeling Inc.5. Accent Tile on Range Backsplash
Designer: Elena Eskandari of Case Design/Remodeling
Developer: Elle Hunter of Case Design/Remodeling
Location: Alexandria, Virginia
Size: 299 square feet (28 square meters); 13 by 23 feet
Homeowners' request. Update and open up a dark and dated kitchen in a waterfront townhome, including adding a larger island and creating a focal point.
Special detail. Range backsplash tile in an arched frame. The tile is Bianco onyx and Thassos marble in a polished water jet-cut pattern resembling lily pads. "With the newly acquired focal point achieved by placing a large decorative cabinetry-style range hood in the center of the main kitchen run, I wanted to add a special tile feature above the cooktop," designer Elena Eskandari says.
Elena Eskandari – Case Design/Remodeling Inc."After the homeowners chose Taj Mahal quartzite for the countertops, I was looking for the tile that was not too colorful, contrasting or geometric," Eskandari continues. "Instead, I was looking to add something similar to the countertop texture that is more muted and has an organic shape. To make the area feel even more special, I added an arch to the top of the tile feature to mimic the lines of the range hood above."
Other special feature. Stained alder island base.
Designer tip. "Use the unique and most expensive materials, such as water jet tile, as an accent to help to stay in budget," Eskandari says. "This way you only need a couple of square feet. Provide a neutral backdrop for it so it stands out."
"Uh-oh" moment. "The homeowners were set on using large appliances," Eskandari says. "And while having larger appliances can improve some functional aspects, they are not the prettiest to look at, especially in a classic kitchen like this. By paneling every appliance, we could we made the fridge and the dishwasher look like a part of the kitchen again. We used decorative appliance pulls that coordinate with the cabinet hardware to make these look even more integrated. By grouping large appliances together on the shorter wall, [we made] the space look a lot more open and inviting."
Island lighting: Reed small chandelier in polished nickel, Visual Comfort
Aidan Design6. Bright Green Paint
Designer: Nadia Subaran of Aidan Design
Builder:Impact Remodeling and Construction
Location: Washington, D.C.
Size: 440 square feet (41 square feet)
Homeowners' request. A more efficient family kitchen able to host large gatherings. "The client has a passion for Swedish design, colorful artwork, Mexican-inspired accent pieces and entertaining," designer Nadia Subaran says.
Special detail. Vibrant green island color, which complements the warm tones of the copper hood and brass cabinet hardware. "The client's inspirational photos were of white kitchens with pops of color," Subaran says. "The client reminded us more than once she was not afraid of color and that a bright and cheery communal space for her family was essential. Their family room had an existing vibrant green sofa that helped inspire the island color."
Other special features. Custom-fabricated backsplash tile matched to that in a photo of a Swedish kitchen from 20 years ago.
Designer tip. "Embrace existing architectural detailing," Subaran says. "There was conversation about changing windows, columns and ceiling details of the existing kitchen space, which would have catapulted this project into a larger scope of construction. Adjustments to existing window, column and ceiling trim detailing can make more of a difference than most would believe."
"Uh-oh" moment. "The custom backsplash tile did not get installed until months after the kitchen was operational," Subaran says. "Our research to find a tile manufacturer to work with began early in the design process; however, we kept striking out after ordering samples with several vendors. The final product pictured is as true to the original vision [as possible]. There were many moments when we considered other directions to help save on time to not delay completion. Credit to the clients for their patience and standing firm with the original vision. The backsplash selection process was both a learning experience and rewardingly worth the wait."
Cabinets: Brookhaven I with Colony recessed full overlay door in Spring Green (island) and Nordic White (perimeter), Wood-Mode Fine Custom Cabinetry; project photography: Robert Radifera Photography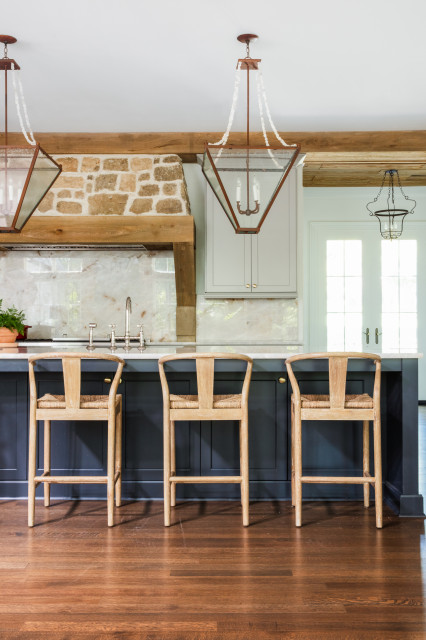 Becca Banker Gaines Interior Designer7. Stone-Clad Range Hood
Designer: Becca Gaines of B. Gaines Interior Design
Location: Collierville, Tennessee
Size: 400 square feet (37 square meters)
Homeowners' request. A kitchen featuring blue.
Special detail. Oversize stone range hood that brings a bit of rustic styling to the kitchen.
Other special feature. Cristallo quartzite countertops with rust-colored veining.
Designer tip. "Don't skimp on your lighting," designer Becca Gaines says. "You should really enjoy the fixtures hanging in the middle of your space."